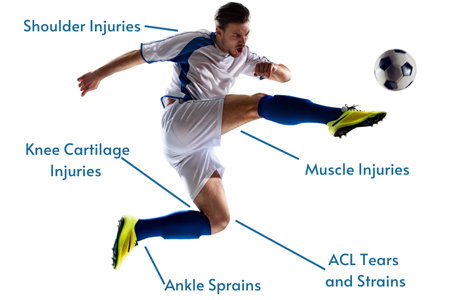 Soccer is the most popular sport in the world and is getting plenty of attention in the U.S. these days, with more Americans playing soccer than ever, significant sustained growth of Major League Soccer, and the prospect of the USA being a host for the 2026 World Cup.
Soccer is a great way to build endurance, improve speed, and promote fitness, all while enjoying the camaraderie of a team sport. Soccer is a relatively safe activity, with an injury rate of one-fifth to one-half of that in American football. But injuries can still occur as a result of the high intensity, quick start-and-stop motions, and physical contact.
Injuries in soccer cover the entire musculoskeletal spectrum but are seen with a 60% higher risk of injury of the lower extremities. Frequent soccer injuries include:
Ankle Sprains: Ankle sprains are one of soccer's most frequent ligament injuries. They occur when the ligaments that connect the bones in the ankle joint are stretched or torn, usually due to a sudden twist or an awkward landing causing the ankle to move out of its normal position. Symptoms include pain, swelling, bruising, and difficulty putting weight on the affected foot. Most ankle sprains can be treated conservatively, but severe and recurrent injuries may require surgery.
Knee Ligament Injuries: The knee is a complex joint that is stabilized by four main ligaments. Injuries to the Anterior Cruciate Ligament (ACL) is the most frequent knee ligament injury in soccer and either occurs as contact injury from a direct hit, or as a non-contact injury from sudden stops, or direction changes while turning or landing. Injury to the ACL typically requires surgery to re-establish the stability of the joint that is needed for participation in soccer. Surgical options include ACL reconstruction using a tendon graft or modern regenerative options to repair the torn ACL using either Primary ACL Repair or Bridge-Enhanced ACL Repair (BEAR).
Knee Cartilage Injuries: High impact loading combined with frequent pivoting in soccer can cause injury to the cushioning tissue covering the end of the bones (articular cartilage) and "shock absorber" (meniscus cartilage) located between the joint surfaces. Meniscus tears and articular cartilage injuries can be isolated or occur in combination with other injuries such as knee ligament tears. Typical symptoms include localized knee pain, swelling, catching and locking of the joint. An MRI is typically needed to determine the extent of the injury and best treatment options. Dr. Mithoefer is an internationally recognized expert for treatment of knee cartilage injuries in athletes and has collaborated with FIFA to publish on the treatment of knee cartilage injury in soccer players. https://pubmed.ncbi.nlm.nih.gov/25878075/
Shoulder Injuries: Shoulder dislocations, when the humeral bone pops out of the socket, are among the most common upper extremity injuries in soccer and seen more frequently in goalkeepers. Treatment can be conservative in some cases initially but surgery is typically needed for recurrent shoulder dislocations.
Muscle injuries: Muscle injuries are frequently observed in both professional and recreational soccer players and account for a significant time away from play. They often occur in association with overuse, fatigue, and explosive movement patterns. Symptoms can vary between thigh muscle tightness to acute sharp pain with visible muscle deformity and bruising. Diagnosis can be difficult in some cases and a thorough understanding of the degree of injury is critical for optimal treatment. The vast majority of muscle injuries in soccer players can be treated with physical therapy and strengthening programs. Dr. Mithoefer was honored to be part of a group of sports medicine specialists that developed a new classification of athletic muscle injuries (including team doctors from Bayern Munich, Manchester United, FC Chelsea, Ajax Amsterdam) which has been successfully implemented in the UEFA Champion's League. https://pubmed.ncbi.nlm.nih.gov/23080315/
Having played soccer at the professional level, Dr. Mithoefer is closely familiar with the physical demands of the sport and understands the athlete's mindset. He has more than 15 years of expertise in sports medicine, including as team physician for the US Men's National Soccer Team, New England Revolution, and Boston Bolts and has also served as Assistant Medical Director for Major League Soccer. His unique experience on and off the field allows Dr. Mithoefer to effectively manage soccer-related injuries with the goal of returning the players quickly and safely back to play.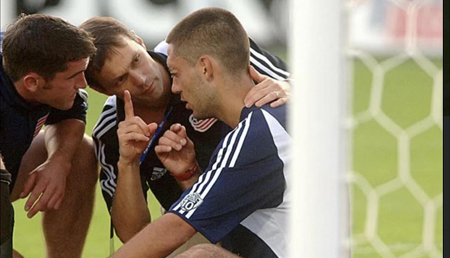 Dr. Kai Mithoefer is board certified in both Orthopedic surgery and Orthopedic sports medicine specialist. Dr. Mithoefer is an internationally recognized specialist for complex shoulder and knee injuries with over 15 years of experience with the treatment of sports-related injuries. Dr. Mithoefer has published more than 100 scientific articles and book chapters and is a frequent speaker at national and international orthopedic meetings.