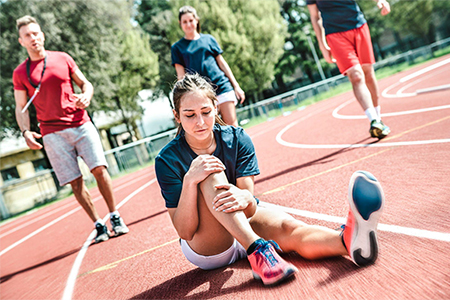 Sports-related injuries are a common occurrence in athletes around the globe. Whether you are a recreational athlete, college or high school athlete, or simply enjoy being active, you will likely suffer from a sports-related injury at one time or another.
Many times ice and rest may be the only treatment necessary, however, some injuries require a more intensive approach such as therapy or surgery. Seeking a second opinion can lead to a greater outcome overall.
When it comes to sports injuries, overdiagnoses and misdiagnoses are quite common. Getting a second opinion can help you receive the most accurate diagnosis so you can choose the right treatment plan for you. Some physicians offer more advanced treatments and use less invasive techniques, based on their education and training. Over the last decade, medical technology has drastically evolved and some physicians are using the new technologies in their practices, whereas others rely on the techniques they've used for years. It is crucial that you are fully informed so you can make the best decision regarding your health.
When you should seek a second opinion:
If your injury persists. If your current treatment plan is not alleviating the problem then it may be time to seek another opinion. An incorrect diagnosis often occurs in sports injuries and unfortunately leads to an inappropriate treatment plan.
If you have not seen a specialist in the field of your injury. If you have been seen by your primary care physician only, you may want to get a second opinion. Physicians in the field of sports medicine specialize in sports injuries and have a significant amount of experience in this area. They use specific medical imaging and scans to ensure an accurate diagnosis.
If surgery has been recommended. Anytime surgery is recommended, it is always a great idea to get a second opinion. Some physicians tend to use a more aggressive approach whereas others take a more conservative approach. There may be specific therapies or treatments you have not yet been made aware of. There is a chance that there is an alternative to surgery or you may receive confirmation that surgery is the best option.
If you do not have total confidence in your diagnosis and treatment plan. Choosing to get a second opinion does not mean that you don't trust your doctor. It is crucial that you feel fully confident in your physician and the proposed treatment plan. Look for a doctor with experience and a good reputation, who has possibly treated someone you know for something similar to your injury.
Misdiagnosed sports-related injuries can lead to delayed healing, unnecessary treatments and surgeries, and further damage to the area of concern.
Dr. Kai Mithoefer offers advanced treatments and uses less invasive techniques and holds the highest level of education and training. Choosing to get a second opinion from Dr. Kai Mithoefer will allow you to explore different treatment options so you can make an informed decision and get back to your pre-injury activities as soon as possible.
Dr. Kai Mithoefer is board certified in both Orthopedic surgery and Orthopedic sports medicine and is a fellowship trained shoulder specialist. Dr. Mithoefer is an internationally recognized specialist for complex shoulder and knee injuries with over 15 years of experience with the treatment of work related injuries. Dr. Mithoefer has published more than 100 scientific articles and book chapters and is a frequent speaker at national and international orthopedic meetings.