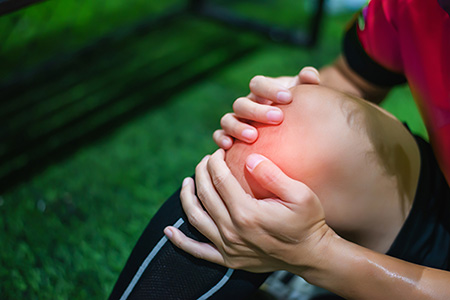 Joint preservation of the knee is becoming well known among sports medicine physicians and arthroscopic surgeons. Because it is a relatively new and cutting-edge treatment, there is still a learning curve for athletes, patients and their loved-ones.
So what is joint preservation? It's a combination of medical techniques to preserve the joint's anatomy and biological structure rather than replacing damaged joint tissues with artificial joint prostheses. Regenerative joint preservation is focused on the treatment of osteoarthritis and other types of cartilage and bone damage using a variety of approaches. Regenerative approaches stimulate the body's ability to heal itself and are recently recognized in Orthopedics as an effective way to repair and preserve musculoskeletal tissue.
Regenerative joint preservation includes a treatment spectrum ranging from articular cartilage repair, novel ligament and meniscal preservation procedures, and re-alignment techniques. This can include non-operative regenerative injection therapies such as viscosupplementation, Platelet-rich plasma (PRP) injections, stem cell treatments, and alpha-2 macroglobulin treatment.
Important patient benefits of preserving the natural biologic joint structure can include:
Reduction of Pain
Increased Mobility
Delay of Joint Replacement
Quicker Recovery
The good news is that there is now an option to repair an injured knee ligament or cartilage without reconstruction surgery using advanced techniques and regenerative treatment options. Regenerative treatments can be applied in other areas of orthopedics and orthopedic sports medicine to biologically augment and promote the healing process and facilitate the return to sports activities. Find a regenerative orthopedic specialist that can offer the entire spectrum of regenerative treatment options to achieve effective joint preservation, ideally by nonsurgical treatments but if necessary using cutting edge surgical technologies. It is important for patients to learn about these new options and find a surgeon that uses joint preservation techniques to achieve the best results possible for each individual patient.
Dr. Kai Mithoefer is board certified in both Orthopedic surgery and Orthopedic sports medicine, fellowship trained in Orthopedic Trauma at Harvard and the prestigious Sports Medicine and Shoulder Surgery fellowship at the Hospital for Special Surgery in New York. Dr. Mithoefer is an internationally recognized specialist for joint preservation, has published more than 100 scientific articles and book chapters and is a frequent speaker at national and international orthopedic meetings.