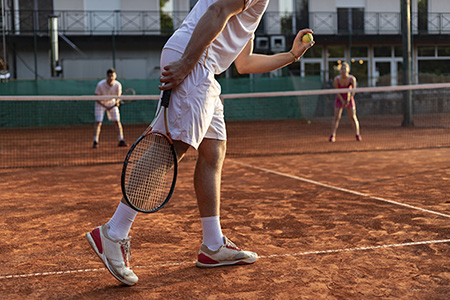 One of the most feared injuries in sports is an ACL tear. More than 200,000 active adolescents and adults in the United States rupture their ACL every year.
Your knee is made up of 4 main ligaments: the medial collateral (MCL), posterior cruciate (PCL), lateral collateral (LCL), and anterior cruciate (ACL). Typically, we are more familiar with the ACL than the other ligaments because the ACL is the most commonly injured ligament in the knee. When you plant your foot, change direction suddenly, or even change your speed of motion, the ACL keeps your knee stable in the midst of tremendous force. This explains why most ACL injuries occur in sports such as basketball, football, skiing, orsoccer.
A torn ACL may not require surgery in some cases, but for others, delaying surgery only leads to further knee damage.
In the past, reconstruction surgery has been the standard treatment for a torn ACL by replacing the ACL with a graft. However, with advances in technology and post-operative care, Primary ACL Repair is gaining ground as an alternative treatment for eligible patients.
The advantages of Primary ACL Repair are:
Preservation of the natural ligament attachments
Preservation of the nerve structures
Retaining the natural function of the knee
Minimally invasive form of surgery
Quicker rehabilitation
Faster return to normal activities
No one wants to be counted in the 200,000 people that rupture their ACL every year. Although it is possible to avoid surgery in some cases, when surgery is indicated, primary ACL repair is a promising treatment for people of all ages and activity levels.
Dr. Mithoefer has been at the forefront of Regenerative Orthopedics for more than 15 years and is an internationally recognized expert in the field. He is a pioneer of ligament preservation using the latest techniques on primary ACL repair with regenerative orthobiologic therapies. Having played sports at the professional and recreational level, he understands the athlete's mindset and practices with the primary goal of returning patients safely and rapidly back to sports.
Dr. Kai Mithoefer is an internationally recognized specialist for joint preservation, board-certified in both Orthopedic surgery and Orthopedic Sports Medicine, fellowship-trained in Orthopedic Trauma at Harvard and the Sports Medicine and Shoulder Surgery fellowship at the Hospital for Special Surgery in New York.