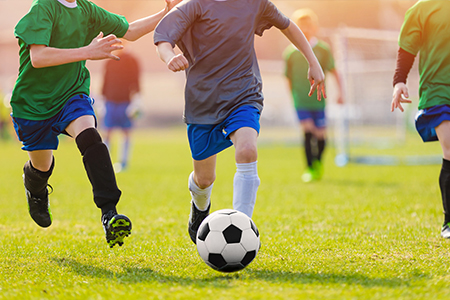 Knee injuries are common among athletes, and young athletes are no exception. The physical demand on young athletes has steadily increased due to increasing frequency of sports participation and early sport-specific specialization and associated higher injury risk. The meniscus is a piece of cartilage within the knee joint that cushions where the femur and tibia meet. When this cartilage is damaged or torn, it can be extremely painful and sometimes debilitating causing a young athlete to take time away from the sport they love. If a meniscus tear is left untreated, it could cause further complications down the road, with many issues leading to joint degeneration and ultimately early joint replacement surgery. Therefore, appropriate management of these meniscus injuries in young athletes is critical to allow for safe return to sport while preserving the integrity joint long-term.
How do meniscus injuries occur in young athletes?
When young athletes experience a meniscus injury, it is typically the result of a twist or rotating force on the knee joint. This type of injury is particularly recurrent in sports like basketball, football, and soccer, which have quick sudden changes of movement. Stopping and moving suddenly, or twisting and jumping is a common way athletes injure their meniscus.
Young athletes are particularly susceptible to injury due to their bones and joints still developing and growing. This can make the ligaments and cartilage more vulnerable to tearing and damage. In addition, injuries to the knee in this young and active population, if not diagnosed and treated appropriately, will often lead to joint degeneration at a young adult age.
Meniscus tears in young athletes often occur from an acute injury. These acute traumatic tears are frequently repairable. Meniscus repair can allow for complete healing of the meniscus injury and preservation of the meniscus which has significant long-term benefits for the affected knee joint and significantly reduces the risk of developing knee arthritis.
Ignoring a knee injury can lead to further damage of the meniscus with further injury to the meniscus, need for more extensive treatment and longer recovery time. Meniscus injuries can be painful if left untreated and cost an athlete time with their team. Take steps to help your young athlete reduce their risk of injury.
If you suspect you, your teen, or your adolescent may have a meniscus injury, it is important to seek medical attention quickly from an experienced and qualified sports medicine orthopedic surgeon to optimize short-term knee recovery and long-term joint function.
1. https://www.bostonjointpreservation.com/knee-procedures-orthopedic-surgeon-boston-waltham-ma.html
AUTHOR: Dr. Kai Mithoefer is board certified in both orthopedic surgery and orthopedic sports medicine specialist. Dr. Mithoefer is an internationally recognized specialist for complex shoulder and knee injuries with over 15 years of experience with the treatment of sports-related injuries. Dr. Mithoefer has published more than 100 scientific articles and book chapters and is a frequent speaker at national and international orthopedic meetings.