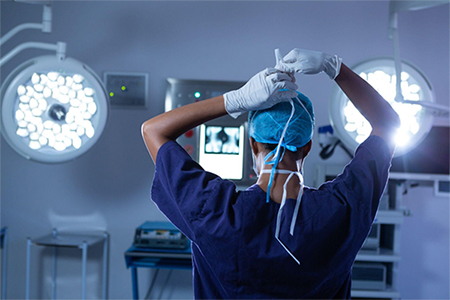 According to the CDC, Americans suffer from approximately 250,000 ACL (anterior cruciate ligament) injuries each year. The ACL connects the femur to the tibia and helps stabilize the knee, making it one of the most vital ligaments in the knee. When the ACL is torn, it requires surgical restoration or reconstruction. Fortunately, there are an abundance of cutting edge treatment options that are able to fully restore ACL functioning.
ACL Autograft Reconstruction: During this procedure, the torn ACL is removed and replaced with an autograft. An autograft is a tendon graft harvested from another part of the patient's leg. For ACL reconstruction, the autograft is usually taken from the quadricep tendon or the patellar tendon via surgical procedure.
ACL Allograft Reconstruction: Similar to ACL autograft reconstruction, ACL allograft reconstruction removes the torn ACL and is replaced with a tissue graft. The difference is an allograft is tissue taken from a donor and surgically inserted into the patient to replace the damaged ligament. This procedure avoids any invasive procedure required to obtain an autograft.
Primary ACL Repair: This new procedure allows repair of the torn ACL without replacement using a graft. This procedure is less invasive than traditional reconstruction allowing for faster return to physical activity.
Bridge-Enhanced ACL Restoration (BEAR): This novel technology is the first surgical procedure to heal and restore a torn ACL to its native orientation and anatomy. This avoids the need for reconstruction using tissue grafts that may not fully restore the ACL to its original functioning. The BEAR implant utilizes your own body to heal the tear and give patients more confidence in their knee's capability after the operation.
Thanks to constant advances in medicine, new surgical procedures are becoming more and more available for injuries such as an ACL tear. If you have suffered from an ACL tear, reach out to Dr. Mithoefer for a consultation today!
Dr. Kai Mithoefer is board certified in both Orthopedic surgery and Orthopedic sports medicine, fellowship trained in Orthopedic Trauma at Harvard and the prestigious Sports Medicine and Shoulder Surgery fellowship at the Hospital for Special Surgery in New York. Dr. Mithoefer is an internationally recognized specialist for joint preservation, has published more than 100 scientific articles and book chapters and is a frequent speaker at national and international orthopedic meetings.