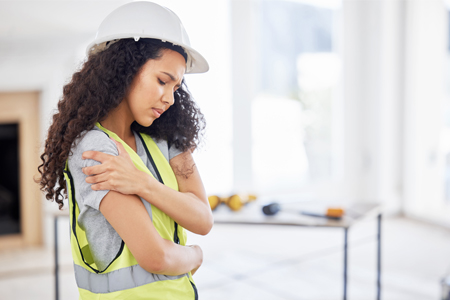 Shoulder injuries are some of the most common orthopedic injuries sustained while on the job. These injuries can happen in any work environment but are most prevalent in jobs that utilize heavy machinery and physical labor. It is important to be aware of the types of injuries you can sustain in the workplace so that you can use caution and practice proper prevention methods.
Some of the most common shoulder injuries in the workplace include:
Shoulder Dislocation
The shoulder is a ball and socket joint and when accidents happen on the job, your upper arm bone may dislocate from this joint socket.
Rotator Cuff Tear
A rotator cuff is a group of muscles and tendons that help to stabilize the joint. Rotator cuff tears typically occur when the shoulder engages in repeated, strenuous motion such as heavy lifting in the workplace.
Labrum Tear
The labrum is a thick piece of tissue on the edge of the shoulder socket, keeping the shoulder in place. Labrum tears can occur from shoulder dislocation or chronic overuse of the shoulder joint.
Stress Fractures
When the muscles and bones of the shoulder joint are repeatedly being used, such as in heavy lifting, a fracture may occur.
Frozen Shoulder
Frozen shoulder is a condition where the shoulder joint becomes painfully stiff and eventually completely immobile. In jobs that are associated with long periods of immobility, such as some office jobs, a frozen shoulder could develop.
Bursitis
Bursitis is the condition where small fluid-filled sacs in your shoulder joint, called bursae, become inflamed. This can occur due to frequent repetitive motion.
Shoulder Sprain/Strain
Shoulder sprains or strains involve overstretching or tearing of ligaments or muscles in your shoulder joint. When heavy lifting without proper lifting technique, shoulder sprains or strains may occur.
If you have sustained any of the listed injuries in the workplace, you are likely eligible to receive worker's compensation. Fortunately, many of these injuries can be treated by your orthopedic physician. If you are in need of care following a work injury, contact Dr. Mithoefer for your orthopedic needs today!
Dr. Kai Mithoefer is board certified in both Orthopedic surgery and Orthopedic sports medicine and is a fellowship trained shoulder specialist. Dr. Mithoefer is an internationally recognized specialist for complex shoulder and knee injuries with over 15 years of experience with the treatment of work related injuries. Dr. Mithoefer has published more than 100 scientific articles and book chapters and is a frequent speaker at national and international orthopedic meetings.