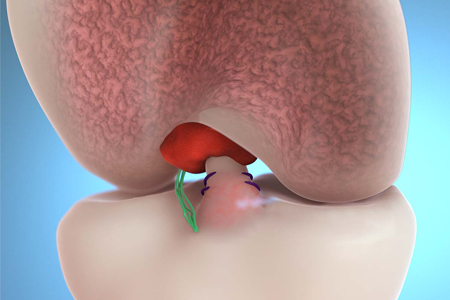 Did you know that there is a new ACL repair surgery using an implant that allows the body to heal its own?1 A recent FDA-approved procedure called Bridge-Enhanced ACL Repair (BEAR) is helping patients like you heal faster from their injuries. BEAR is the first of its kind to allow the torn ligament to heal itself without using graft tissue. Until now, the most performed surgery consists of using a tendon from your own body (autograft) or a donor (allograft). Bridge-Enhanced repair is unique in that it uses a sponge-like implant mixed with the patient's blood, then inserted into the gap where the tear occurs. The gap between the torn ACL ends is now protected, allowing clotting. This process allows your body to absorb it as its own tissue and, over time, heal itself.
There are many benefits to choosing Bridge-Enhanced ACL Repair compared to reconstructive surgery. Some of the benefits include:
Only one wound site: In traditional ACL reconstruction surgery, a graft may be taken from the patient leaving two wound sites. The BEAR procedure only uses one incision.
Muscle strength improves quicker: The BEAR procedure allows improved muscle strength and patients are able to return to normal activities sooner.2
Outpatient Procedure: This type of ACL repair is typically done as an outpatient procedure allowing you to return home the same day.
Minimal tissue damage: Bridge Enhanced ACL Repair avoids damaging other healthy tissue around the knee, preserving your own tissue.
Higher patient satisfaction with being ready to return to sports:3 Most patients are able to return to their previous level of daily activities or sports.
You need to meet specific criteria to qualify for the BEAR procedure. If you are:
Over the age of 14
Have a mature skeletal system
Have a complete ruptured ACL confirmed by imaging
Are less than 50 days from injury
If you meet these requirements, you may be a good candidate for Bridge Enhanced ACL Repair. Dr. Mithoefer is one of the few doctors in the nation offering this innovative procedure. If you have experienced an ACL injury and would like the benefit of healing your own ACL naturally with a quick return to activities, contact Dr Kai Mithoefer at New England Center for Orthopedics and Sports Medicine for a consultation.
Dr. Kai Mithoefer is board certified in both Orthopedic surgery and Orthopedic sports medicine and is a fellowship trained shoulder specialist. Dr. Mithoefer is an internationally recognized specialist for complex shoulder and knee injuries with over 15 years of experience with the treatment of work related injuries. Dr. Mithoefer has published more than 100 scientific articles and book chapters and is a frequent speaker at national and international orthopedic meetings.
https://www.kiro7.com/news/local/evergreenhealth-performs-new-acl-procedure-that-lets-body-heal-its-own/XZU626IK75BPZCWTGYY4AO4LZQ/
https://www.summitdaily.com/news/for-acl-patients-vsons-innovative-bear-technique-can-help-promote-natural-healing-and-reduce-recovery-times-sponsored/